Picking the perfect
massage therapist

Picking the perfect massage therapist for a lot of people can be a challenging task! But I am here to help make that a little easier for you. I am going to explain all the different types of massage therapists that you can pick from. Which setting maybe the best pick for you, and address common client complaints that are written about in reviews.
Once you as the client understands the industry a little bit better, this should help you pick the massage therapist that is the best match for your needs.
Massage therapy is a fast growing industry. And I feel the internet has really help to give people the access on information for all the different ways massage can help your body/mind feel great. Even with all the information out there people still seemed to get lost in all the sea of information.
One thing that makes me sad is people have a bad experience and it scares them away from having a massage ever again. And this could be avoided by having some information handy and knowing what types of questions to ask before you as the client ever step foot in the therapists office.
Where to begin? 
The first place to start is to ask for a referral from friends and family. They can give you great in site on the location, how to book a session, pricing etc. But your homework doesn't end there it is a really good idea to do some internet research as well. Make sure you check out the therapist's website site and spend some time there. Learn what the office policies are, hours of operation, form of payment and how to book a session.
Next see if you can find reviews about the therapist you are interested in booking a session with. Good reviews will share the therapist style, price point, and how easy it was to book a session. Don't pay too much attention to the vague reviews they won't help you make the right choice. Even bad reviews have their golden nuggets with in them. Most of the time clients write bad reviews about a therapist because they just were not a good match, but that doesn't mean the therapist is not good at their job. Many bad reviews are about pressure either too light or too deep. And your preferred amount of pressure is really more about personally choice and what you like. This is why research on the therapist's style is important.
If you are looking for a relaxing stress relieving massage a therapist that has a lot of reviews on how great there deep tissue skills are and how the therapist help their frozen shoulder, may not be the best choice for you. Why? That therapist just has a different skill set and training. You will feel jipped of your time and money because you didn't get the type of massage you are looking for and the therapist won't have a repeat client.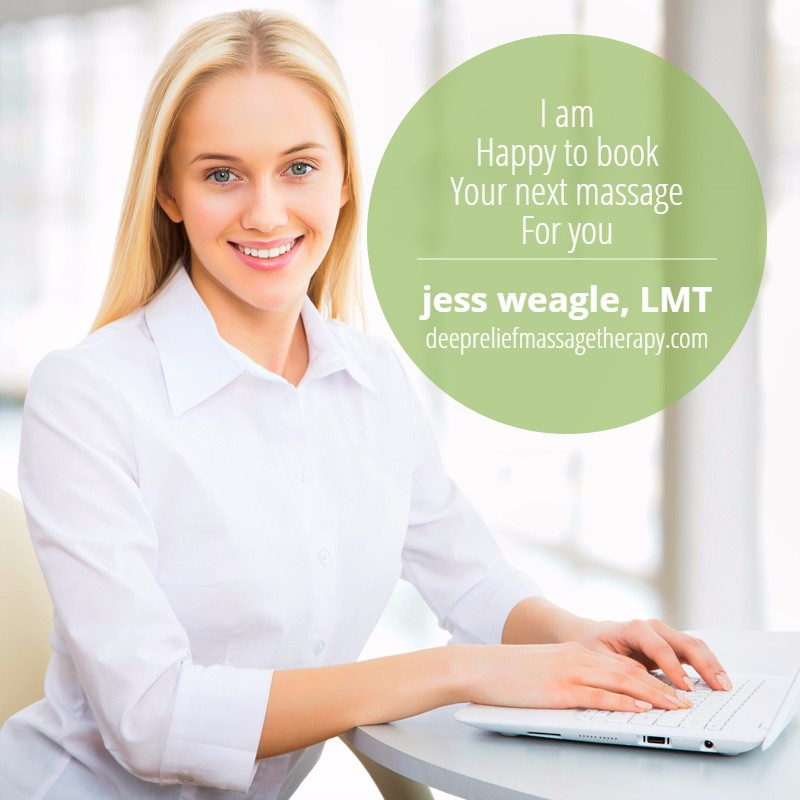 How do you avoid this?
Simple ask questions about the therapist style and give some insight as to what you are looking for. A good therapist will tell you if they are a good match and if not give you a name to another massage therapist in the area who maybe a better fit for you. The last thing any massage therapist wants is a un happy client.
Another place to find a therapist is through social buying sites such as Groupon, Amazon Local, and Living Social. If you choose to go this route, it is very important to read the voucher very carefully! Many therapists run these types of deals because they are looking to get some extra exposure for a certain type of service.
Many of my colleagues offer other service then just massage. The deal maybe for a certain type of energy work (Reiki or Polarity) or even a mini body treatment (like mud wrap or body polish). Don't assume the voucher is for a massage till you read what exactly the voucher is for. And if you don't understand what the voucher is for call or email the therapist asking to explain a little bit better before you buy. Once you are armed with more information than you can decide if it's a service you are interested in.
Also keep in mind that you are going to have to wait for an appointment. With these social buying sites a lot of vouchers are sold.  It's also a good idea to ask before you buy how long it's going to take to get an appointment. I ask you to please be patient the therapist is doing the best they can to be able to fit everyone in.  To save on phone or email tag. Book your appointment online, most therapists are offering this option now, which is a great time saver for everyone!
There are a few different ways therapist chooses to book their appointment. Phone, email, text, massage and online booking. Many therapists are moving towards online booking because it is such a time saver and well worth the business expense. A client can book their session even while their therapist is working and it really saves on the phone tag and the back and forth as to what available appointment there. Lots of therapist run a solo operation so answering the phone is a challenge. IF the therapist is in the office that means their working on a client an can't answer the phone, if you really would like to talk to the therapist make sure you leave a message and your phone call should be returned in a timely manner. Many will return your message within 24 hours or at the end of the work day if it isn't too late to call. An email or text message might be returned faster as in-between client a quick email/text message can be returned.
If this doesn't work for you then you can try one of the large massage chains such as Massage Envy or Elements of Massage.  These places have a large staff of massage therapist and have people working the front desk all the time. Many times you can get a walk in or same day appointment. The chains also tend to be open 7 days a week till about 8 pm. They also offer a great intro rate of about $45, the amount varies based on location. They also offer a 6 – 12 month membership were you can lock into a special rate. Make sure you read the contract and understand what you are signing.
What is great about the massage chains is they have lots of massage therapists on staff so you can generally get an appointment within 24 hours or even walk in. But keep in mind they don't offer 60 or 90 minutes massages they are 50 and 80 minutes. And to get the best price you need to be a member, but this gets you into the habit of getting monthly massages. And you also get a chance to try out many different massage therapist styles under one roof. This option is very appealing to a lot of clients which is why you are seeing more and more of these chains in your neighbourhood.
The day of
Let's assume you have picked the therapist you would like to work with. Understand where you need to go. I know this may sound silly but many massage therapists rent space either within another business or are in a professional office building were their maybe more than one massage therapist. Make sure you write down where you need to go the first and last name of the therapist in case you need to ask for directions. Just don't say
"I am here for my massage"
You may end up at the wrong place!
During your first session there will be a health history form that will need to be filled out. Please arrive to your session about 10 minutes early, but not too early. Why? Your therapist maybe with another client taking payment talking about at home self-care, booking the next session etc.. Or the therapist may have stepped out of the office to run an errand/lunch/snack break. Therapist need their down/ refuelling time.
When you are filling out your health history form make sure you fill out the whole form sign and date. And read what you sign as well. The cancellation and return check policy are generally at the bottom of the form. Read and understand what you are agreeing to when booking an appointment . These policy are in place to help to keep the office running smoothly.