Finding A New
Massage Therapist 

Finding a new massage therapist can be a scary task for some clients. Doing an online search can send you down the rabbit hole of massage therapists in your area. So I am going to share some words of wisdom to help make your search a little bit easier.
The number 1 big tip is having some idea of what you are looking for. If you are looking relaxation and stress relief chances are a massage therapist who works in a chiropractic office isn't going to be a good match. Might be worth to just write some notes on what type of experience you are seeking.
These general ideas will also help you with an online search as well. They will help to narrow down your search results. And take some time to explore their website. Do they have a blog or newsletter you can sign up for? Even check them out on social media. You can learn a lot about the type of person they are by the content that is shared online. You want someone who has passion about helping people achieve wellness.
Don't be afraid to pick up the phone or even send an email asking the therapist questions about their style and in general the types of clients they work with. Massage therapists want to make sure you have a great experience so we welcome client questions.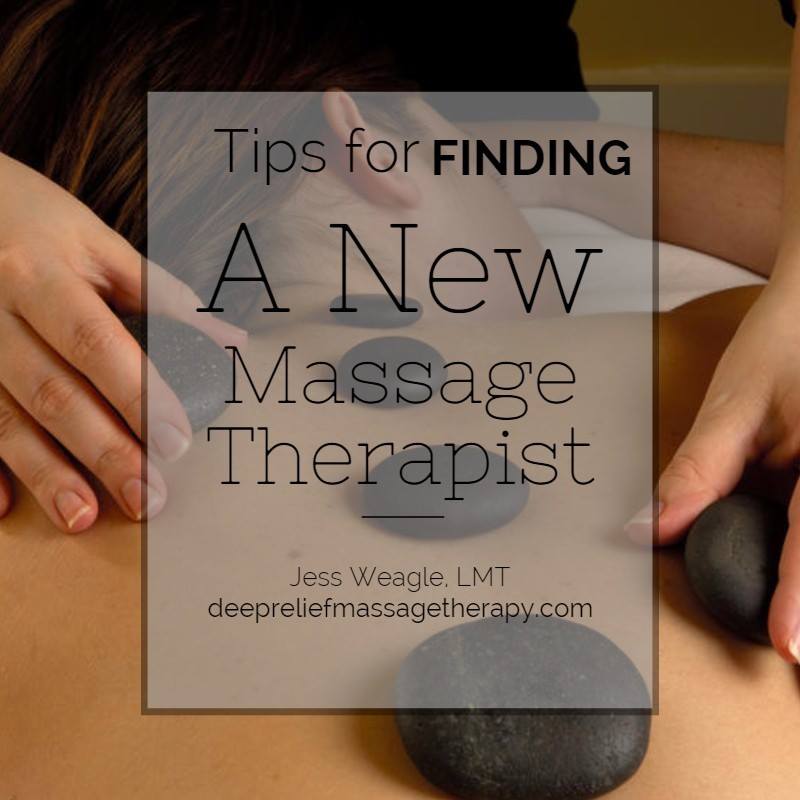 Site such as Yelp can be a helpful tool as well. Take some time reading reviews. Clients generally write about cost, location, and the therapist style of work. Reviews can help you get a broad picture of the massage practice you are interested in check out.

Social buying site such as Groupon and Amazon Local can give you lots of choices, but make sure you read the details of the voucher before you buy. And call in advance how long it will take to get an appointment. These sites sell a lot of vouchers for massage, so you may need to wait a month or more before you can get an appointment. But you can try a new person for 50% off their regular rate.
And don't forget to ask friends and family. A first hand referral is the best way to go. Let people know what you are looking for and there's a really good chance someone in your inner circle can point you in the right direction for finding a new massage therapist.
In the comment section below share with me some other tips for finding a new massage therapist.