Pain Free Life 
You don't have to live with pain. Getting older doesn't have to hurt. 
Oh my achy feet

My jaw hurts this morning

My back is kill me after sitting all day

I have another headache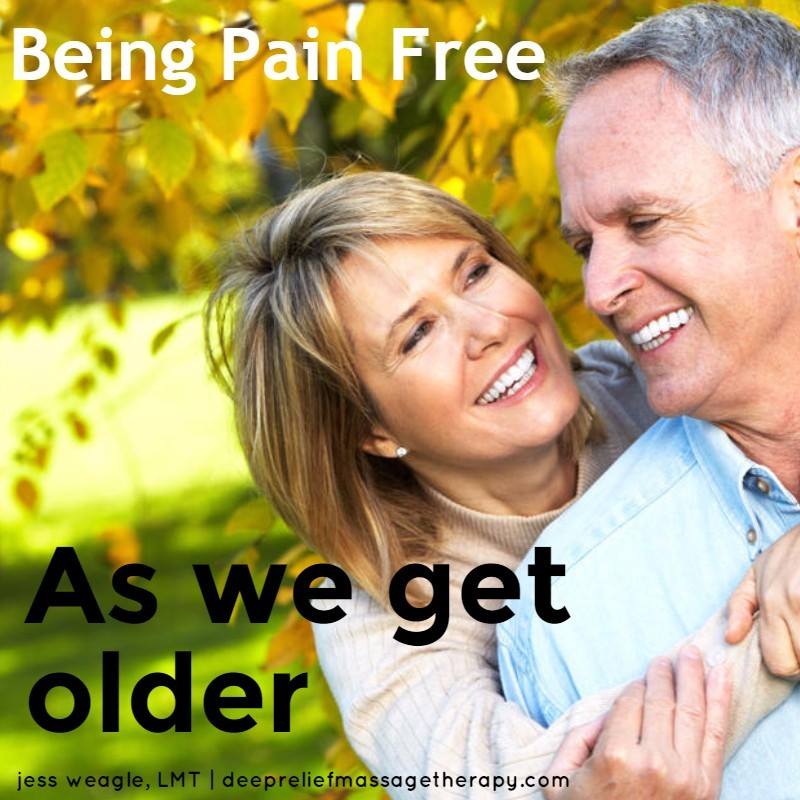 All of these everyday aches and pains can really affect your day. When you are in pain all the time, you don't sleep well, you are grumpy towards your loved ones, and you may have a hard time focusing at your job. But you don't have to live with the pain anymore!
You don't have to live with those common old age aches and pains. You can get older and not have to worry about stepping off the curb without falling. You can get out of that car without rocking back and forth to get up. You can take your dog for a walk around the block with our hips hurting.
Living a pain free life means you need to be proactive when it comes to lifestyle choices.
Feeling great as we age does take maintenance. If requires cutting back on your processed food, white sugar and white flour. Processed food is difficult for your body to digest and causes inflammation. You are also going to need a regular exercise routine like going for a hike in the woods, playing a round of 9 holes of golf or swimming at the YMCA. Regular movement helps to keep your body loose. This prevents injury and helps with proper bone alignment.
Massage therapy is also perfect for those aches and pains as we get older. Massage therapy not only helps to relax you and makes you sleepy, but massage also helps to heal those tired over worked muscle. And as little as one session you can feel the aches and pains in your muscles just melt away.
So before you reach for another bottle of pain pills you may want to think about changing your diet, start a regular exercise routine and have a monthly massage and or bodywork session. Need some more self-care ideas? Check out my blog post I wrote about my self-care routine.
Do you have any tips and tricks for a pain free life. Please share in the comment section below.