Saving money for massage
Doesn't have to be
Complicated any more!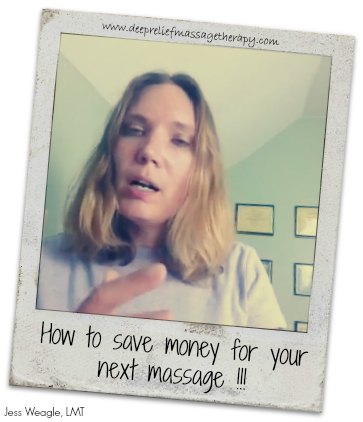 Many people love getting massages but they struggle with saving money to pay for them on a regular basis. But fear not, massages don't have to be expensive there are ways to save on your massages.
Many places offer the new client discount, this gives you a chance to try a place out without having to pay full price. You have also want to get on their email list, places often offer discounts if you book on a certain day or with a particular therapists. In these cases you will have be willing not to be picky about your therapist.
You can also get a student massage at your local massage school. Often times you can get a massage 50% off the going rate in your area. But keep in mind these students are still learning, so you are not going to have the same experience as you would in a private office. During your health history evaluation, the teacher maybe present to help to the student learn how to ask the questions of a new client. You will also have a survey to fill out giving the client and idea of what the student may need to work on from a client's point of view. A lot of student clinics won't let you request a student therapist, so you need to be willing to see whoever is available.
Groupon is also another choice for saving money on your massages. Many businesses offer massage at least 50% off the regular rate. But you will need to know a few tips in order to have your best client experience with a Groupon massage. Before you buy, I would do a little research on the business and see if you can find reviews online. If you are happy with the info you are able to find, after you buy book your massage ASAP! When you book make sure you have your voucher number ready. Don't be a last minute booker. Places sell a lot of these voucher and you need to be far to the business owner and give them enough lead time to be able to get you an appointment. If you wait till a week before your voucher expires the business owner may not be so willing to work with you. With Groupon you also need to be willing to not be picky about the therapist you are seeing. Many multi therapist business use this marketing tool as a way to help new therapists gain exposure and new clients.
Ask your FAVOURITE massage therapist
how to save money  
If you have found your prefect therapist, but you feel money is tight you still have options. Ask about massage packages. Buying in bulk is a way of saving money per session, but you will need to have the money upfront. Many places are also offering membership programs as well; the way it works is you sign a contract agreeing to have a certain amount of money charged to your credit card every month. And in return you are saving money.
Health savings account (HSA) and flex spending account (FSA) can also help you budget for massages. Each week, money is taken out of your paycheck and put into one of these accounts. How it works you will need to get an Rx from your doctor and this will need to be put on file for you HSA or FSA. You will need to ask if the massage therapist you are interesting in working with is able to processes these cards. If your massage therapist isn't set up to take these cards but you still want to use the funds. You will need to pay out of pocket and have your receipt faxed to your HSA or FSA company and they will reimburse your funds.
Lots of choices here to help pay for your massage here! Figuring out how to pay for massages doesn't need to be stressful.