Swedish vs Deep Tissue
Pick Your Pleasure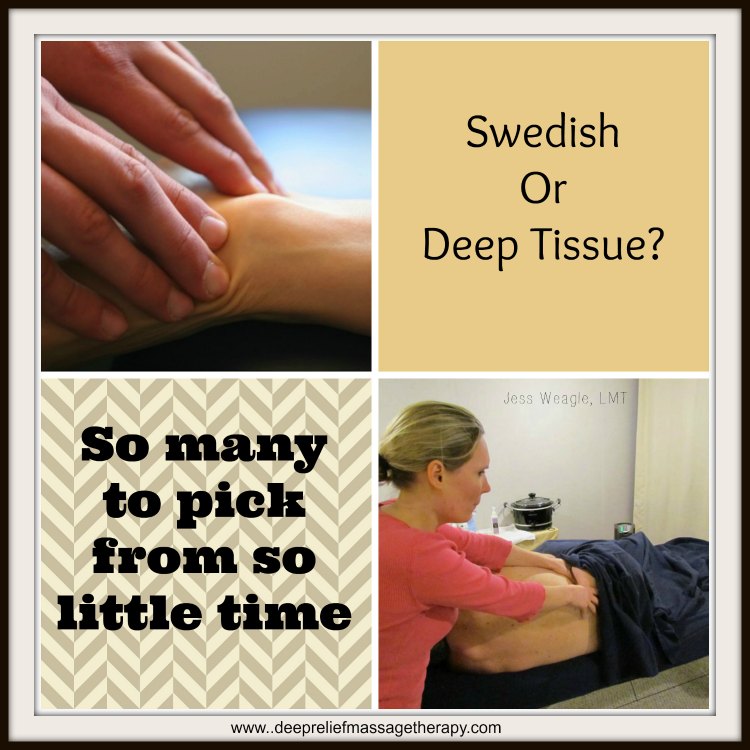 The 2 most common types of massage clients tend to book their massage for are either Swedish or a deep tissue massage. And many clients don't understand what they are asking for, so let clear up all this massage confusion shall we?
What are your massage needs? Knowing what results you will like from your session will greatly help you pick the correct service with the correct therapist. Let's get into the knitty gritty of Swedish vs deep tissue. 
 Swedish massage is actually the most popular massage clients receive. But what is a Swedish massage really? This modality is your general relaxation services. Light, long flowing strokes are used throughout your session. The whole point of this services is to help calm your mind and body and to bring you to a place of total relaxation. While you are on the table just allow all that chatter in your mind to shut off and go to your happy place. This is great service to help melt off all your stress from the mind and body. The pressure of the strokes are on the lighter side and this massage tends to be a full body. If you don't want your abdominal or face worked on let your therapist know a head of time.
People who tend to like lighter work will really enjoy a Swedish massage.
But what if you want the deep stuff? Then you need to book a deep tissue massage. Just like the name implies the work is deeper, slower and more focused. If you are having low back and neck pain this maybe a better choice for you. You need to keep in mind this probably won't be a full body session if you only book an hour. Deep tissue is more focused work, so extra attention will be paid to those areas that are bothering you. If you would like more areas of your body worked then you need to make sure you book a long enough session. It is also important that you speak up if the work is feeling uncomfortable and or painful.  
If you are unsure which is a good fit for you, then have a phone consolation with the therapist you are interested in working with he/she will be able to let you know if the 2 of you are a good match for each other.
Which services do you like best Swedish or deep tissue? Leave me a comment below, I always love to read your opinions. And don't forget to share this blog post to help some else understand the difference as well.